Mineral Prospecting and Assessment
Mineral prospecting and assessment are mainly focused on the key minerals and important metallogenic belts to make new significant discovery, and to guide commercial exploration and development in order to promote prospecting breakthrough and to increase support capability of mineral resources. The prospecting and assessment include oil and gas, coal, uranium, iron, copper,aluminum, potash, gold, lead and zinc in 19 key metallogenic belts of the country according to the principle of "Covering the area, Breakthrough in key points" which shows foresight and strategic thinking. The prospecting and assessment plan includes three parts. The first one is the nationwide mineral resources potential evaluation, which is supposed to ascertain the total situation of resources to provide basis for government macro policymaking. The second one is to carry out the potential mineral investigation in the key metallogenic belts to provide new mineral zones and prospecting target regions for guiding the commercial exploration. The third one is to carry out the early-stage prospecting and demonstration in the large-scale mineral zones to guide and promote regional mineral prospecting.
Since 1999, a series of great achievements have been made through prospecting and assessment of mineral resources. More than 900 new mineral zones have been found and newly increased mineral reserve (333+3341) which include 130 billion tons of coal, 5 billion tons of iron ore, 180 million tons of manganese ore, 38 million tons of cooper ore, 83 million tons of lead and zinc ore, 450 million tons of bauxite ore, 460 million tons of potash ore, 750 thousand tons of tungsten ore, 2.6 million tons of tin ore,1800 tons of gold ore and 80 thousand tons of silver ore.
To carry out the national investigation of mineral resources and key mineral potential assessment and systematically reprocess the products and data of the geological survey which got from last 60 years, a series of maps and databases of geology, geophysical and geochemical exploration, remote sensing, mineral prospecting and exploration have been established to provide the basis for metallogenic prediction and prospecting deployments. Major minerals which include coal, uranium, iron, copper, aluminum, lead and zinc, gold, tungsten, antimony, rare earth, potash and phosphorus have been assessed in the round, and a batch of predict targets have been delineated. The theoretical researches of tectonics, geological evolution, metallogenetic regularity have further been strengthened. The mineral prediction theory and methods have also been innovated. By these experiences, a great number of talents grow up. According to these preliminary fruits there are still only 36% of nationwide overall resources to be ascertained and still big potential minerals need to be ascertained.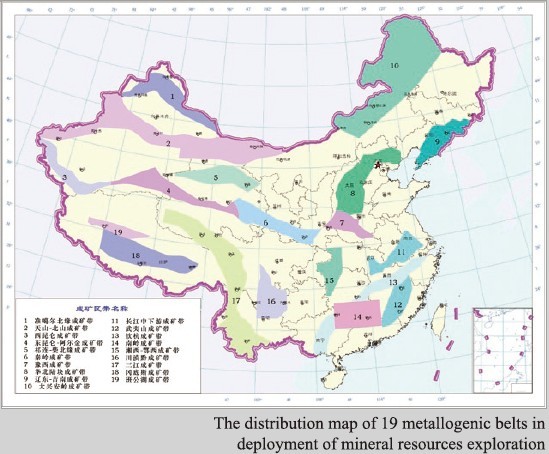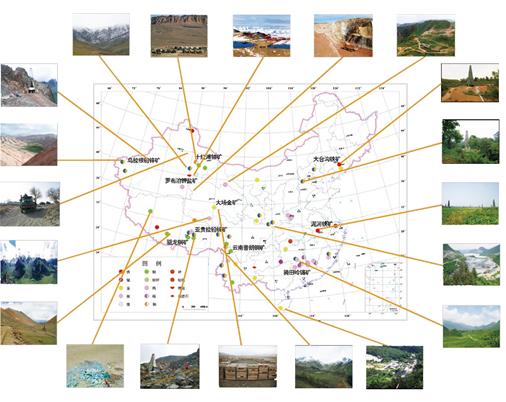 Deposits after prospecting and assessment
The investigation of oil and gas is potential to reveal several new strategic areas. Sandstone-type uranium deposits in northern China are becoming new energy base. Important progresses have been made in the new energy investigation of gas hydrate and saline lithium. The big breakthrough has been made in the prospecting of bulk and relatively scarce minerals which include iron, copper, aluminum and potash. And new progress has made in the prospecting of some dominant minerals which include lead and zinc, tungsten, tin, gold and silver. Ten resource bases have been taking shape such as " The copper base in middle Tibet"(10 million ton-class), " The iron base in Awulale of Xinjiang"(100 million ton-class), " The potash base in Lop Nor of Xinjiang"(100 million ton-class), " The lead and zinc base in Nyenchen Tanglha Mountains of Tibet"(10 million ton-class) and in Wulagen of Xinjiang"(10 million ton-class), " The gold base in Dachang, Qinghai"(100 ton-class), in Northwest Yunnan,in Eastern Tianshan mountain and in Qimantage. Some old resources bases such as " The northern iron and steel base", "the iron base in the middle and lower reached of the Yangtze River", " The tungsten and tin base in Nanling Mountains", "The lead-zinc-silver base in Qinling Mountains", and "The leadzinc-silver base in Wuyishan Mountains" come flourishing again after more detail geological work.
On the basis of the achievements made in practice, a new mechanism of mineral prospecting has been probed for the nation's social and economic development. The innovation on "Nihe Mode" in Anhui Province, "Song County Mode" in Henan Province, "Project "358" in Xinjiang and Qinghai-Tibet Special Program" have been summarized in order to pushed the transformation of mineral resources achievements and to promote the subsequent commercial mineral exploration and development.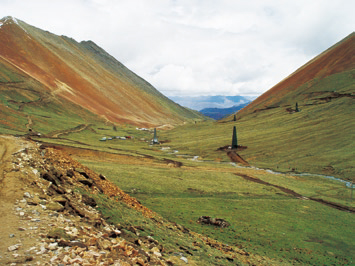 Qulong cooper deposit for large-scale commercial mineral exploration