News & Events
Chinese Scientific Research Ship Haiyang-6 Completed its scientific exploration in Antarctica Waters
Chinese scientific research ship Haiyang-6 has completed its scientific exploration in the waters around the Antarctica and will return home around Sunday, said China Geological Survey (CGS) on Wednesday.
Haiyang-6 is indepently invented and built by Guangzhou Marine Geological Survey,China Geological Survey(CGS),and has conducted a synthetic survey on the physical and maritime geography of the waters around the Antarctica during its mission, according to Xiao Guiyi, head of the Department of Basic Geological Survey, CGS.
"Relying on the technologies, we have obtained the geographic data of the Antarctic waters, which is the first hand material for researching the effect of global warming on the Antarctica," said Xiao.
The ship has also gained other important data concerning underwater geothermal energy and underwater terrain in the area, said Xiao, adding that the ship will begin its new mission in the Western Pacific shortly.
"After the mission in Antarctic waters, Haiyang-6 will return for replenishment and set sail to the Western Pacific Ocean shortly for another mission, and then it will return the base in Guangzhou in April," said Xiao.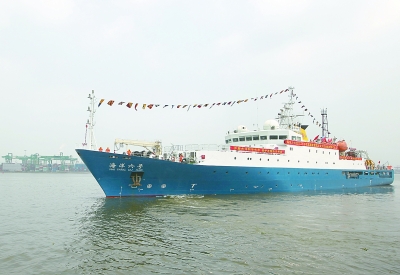 Haiyang-6 (Guangming/Maqiang)